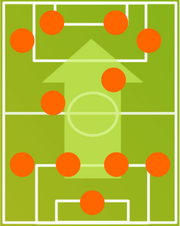 Das 4-2-4 ist die offensivste Taktik. Sie ist auch die unrealistischste Taktik und somit kaum spielbar. Versucht euer Glück damit, jedoch solltet ihr euch nicht so viel versprechen.
Vorteile/Stärken:
sehr gut gegen 3-4-3
hohe Schussstärke
Nachteile/Schwächen:
Probleme gegen defensive Taktiken wie 5-4-1
sehr Konteranfällig
Einsatz der Spezialisten:
Sturm:
Als zentrale Stürmer können 2 Kopfballungeheuer (KO) eingesetzt werden, aber auch ein Flankengott (FL) flankt zentral. Jedoch machen FL auf den Flügeln mehr Sinn und können als OM oder Sturm dort eingesetzt werden.
Offensives Mittelfeld:
Je nach geschmack kann OM KO, OM FL oder OM SP eingesetzt werden.
Defensives Mittelfeld:
Hier ist ein DM KO sehr sinnvoll. Hier kann aber auch ein DM SP eingesetzt werden.
Außenverteidigung:
Hier sind 2 FL sinnvoll oder man stellt einen AV Manndecker (MA) auf um mit 2 IV KO zu spielen.
Innenverteidigung:
Es können KO und MA stehen, oder man stellt 2 KO auf.
Der hier aufgeführte Einsatz der Spezialisten ist keine Garantie für Erfolg! Es soll gezeigt werden welche Spezialisten auf welcher Positon sinnvoll sind und auch teilweise als Beispiel bzw. Ansatz dienen für eure eigenen Tests. Um die Tests kommt man als strebsamer Manager nicht herum.
Ad blocker interference detected!
Wikia is a free-to-use site that makes money from advertising. We have a modified experience for viewers using ad blockers

Wikia is not accessible if you've made further modifications. Remove the custom ad blocker rule(s) and the page will load as expected.