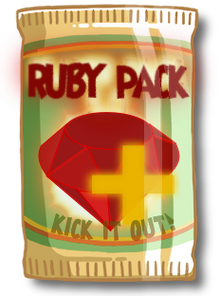 Kick it out ist grundsätzlich kostenlos. Alle Elemente des Spiels sind zugänglich, ohne einen Cent zu bezahlen.
Wer schneller oder mehr Erfolg möchte, wird über kurz oder lang zu den Packs greifen.
Wir bieten viele verschiedene Packs an, damit jeder das findet, was er gerade braucht:
- Rubin Packs zum Einkaufen im Rubinshop
- Booster Pack, das hauptsächlich Items enthält, die dem Verbessern von Spielern und Talenten dienen
- Season Pack mit einigen weniger oft benötigten Items
- Player Pack mit Spielern oder Verträgen
- manchmal gibt es auch Special Packs mit wechselnden Inhalten, zum Beispiel drei Silber-Spezialisten.
Ab und zu gibt es ein Pack-Special, d.h. beim Kauf jedes Packs erhält man Items oder Rubine gratis dazu. Das steht dann jeweils groß auf dem Packkauf-Screen. Solche Pack Specials beginnen und enden immer um Mitternacht.
Selbstverständlich kosten die Server und die Weiterentwicklung Geld. Dafür verwenden wir den Erlös aus den Pack-Verkäufen.
Ad blocker interference detected!
Wikia is a free-to-use site that makes money from advertising. We have a modified experience for viewers using ad blockers

Wikia is not accessible if you've made further modifications. Remove the custom ad blocker rule(s) and the page will load as expected.